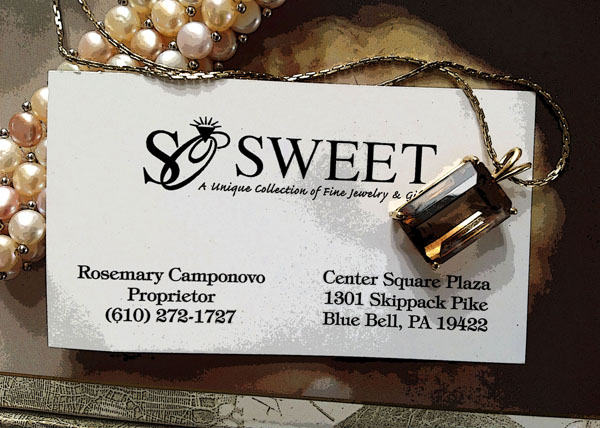 SO SWEET JEWELRY AND GIFTS
Hiding in plain sight is an amazing jeweled resource.  So Sweet fine jewelry and gifts is located in the corner of the Center Square Plaza. And the real jewel in the box is Proprietor Rosemary Camponovo.  Rosemary is a connoisseur of beautiful jewelry and gifts for clients with grace and aplomb. Rosemary's taste is impeccable and her knowledge of gems, both precious and semi-precious comes after years of association with J. E. Caldwell Jewelers. Rosemary was the youngest manager at the old Philadelphia icon prior to their unfortunate purchase.
What sets So Sweet apart?  They carry affordable finery for all styles, ages and occasions. The latest trends to the classics, fine and delicate to bold and brazen. If you are unsure of what is needed, Rosemary will lend errorless guidance. 
And who has too much jewelry? Or is tired of old styles, or who hasn't collected a box full of broken clasps or single earrings?  Honestly. So Sweet can repair your favorites, reset your stones or recycle your precious gold. 
And of course, refill the drawer.
What a treasure…..and it does all sparkle.