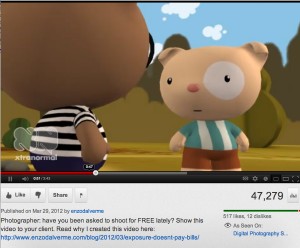 I love this video because it highlights the bane of many creative artists' existence. The creative community in my experience is one of the most generous as a group, offering ideas, art, execution and participation, blood, sweat and tears to so many worthwhile efforts.
However, why is it that once exposed as a "giver" do people expect you to give and give and give, to profitable businesses? Have you been labeled a "push-over?"
Ranae Gabel, co-founder of In Touch Marketing Concepts, <http://www.intouchmarketingconcepts.com> and I were having coffee at Starbucks the other day, and got into an amazingly entertaining discussion about CLIENTS v. FREEBIES.
To that end, we are planning to offer an INTRO into marketing….FREE.
Just as soon as we can figure out how to get paid for it.
In the meantime, please be entertained by the link below. The creator has offered it to other creators whose clients want the invoice to read
"GRATIS."  Enjoy!
Exposure Doesn't Pay the Bills
http://www.youtube.com/watch?feature=player_embedded&v=V6B6OXnyaRk